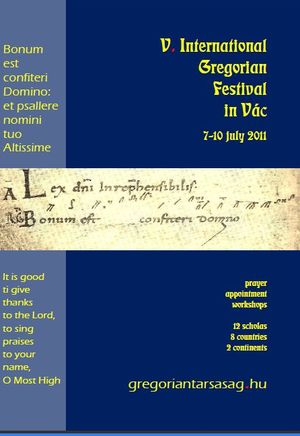 The V. International Gregorian Festival presents eleven scholas from eight countries (Austria, Ireland, Japan, Hungary, Germany, Norway, Romania (Transylvania) and Slovakia) and three great lecturers. The festival is a unique and important occasion in the musical life of Central Europe as the lectures are going to be held by the most excellent professors who have specialized knowledge of Gregorian singing but who are not much known in Hungary.
The most important events of the festival are the liturgical occasions where the essential spiritual message of the Gregorian songs is manifested. On these occasions the introductory songs, all the changing parts of the mass and the chants are performed by the invited scholas but everyone can join in the permanent parts (Kyrie, Sanctus, Agnus Dei). On Thursday and Sunday we are going to sing the IV. Gregorian mass and on Saturday, the IX Gregorian mass. The music notes can be downloaded from the website of the Gregorian Association (
www.gregoriantarsasag.hu, Saturday
,
www.gregoriantarsasag.hu, Sunday
) or we can also send them on post if it is required.
On the concerts the audience can hear Gregorian interpretations of excellent foreign scholas which are more experienced than the home scholas. Beside the lectures and concerts, there will also be exhibitions of the fine arts on the festival.
The festival also aims at giving inspection into the researches on Gregorian which have been going on in Western Europe recently. The Gregorian Association has invited respected professors who are going to give their lectures on this topic.
On Saturday several Hungarian and foreign scholas are going to introduce themselves. That day codex-copying and badge-making workshops are also going to run.
---
Performing scholas
Austria
Grazer Choralschola - Prof. Dr. Franz Karl Prassl
Schola Resupina ( Wien) - Isabell Köstler
Irland
Schola Gregoriana Maynooth - Hanna Evans
Japan
Capella Gregoriana - Chorus Instituti St. Gregorius (Tokio) -Veronika Hashimoto
Hungary
Cantate et Jubilate Schola (Budapest) - Ferenc Sapszon jun.
Schola Gregoriana Budapestinensis - Georg Béres
Germany
Vox Werdensis (Essen-Werden) - Prof. Dr. Stefan Klöckner
Norway
Consortium Vocale Oslo - Alexander M. Schweitzer
Romania/Transilvania
Schola Gregoriana Monostorinensis - Tamás Jakabffy
Slovakia
Gloria Dei - homo vivens (Pozsony) - Braunsteiner Gloria
---
Program
7 July Thursday
16.00 Eva Lieber textile artist's exhibition entitled "Celestial Dew" in the Credo house,
opened by Dr. Lajos Varga assistant bishop with the participation of Cantate et Jubilate Schola (Budapest)
18.00 Opening ceremony and prelatical Gregorian mass in the Cathedral,
celebrated by Dr István Seregély, retired archbishop of Eger
19.00 Schola concert in the Cathedral
8 July Friday
Lectures, held in the Hall of the Apor Vilmos College (Konstantin tér 1-3)
09.00 The first written appearing polyphonic music pieces in the Musica et Scholica Enchiriadis manuscript, 900AD
Lecturer: Prof. Dr. Stefan Klöckner (Germany)
10:30 Restoration of the Gregorian melody in the Graduale Novum
Lecturer: Prof. Dr. Franz Karl Prassl (Austria)
16.00 Schola concert in The Chuch of the Whites (Dominican Church)
18.00 Gregorian Vesperas in the Piarist Church
19.30 Schola concert in the Cathedral
9 July Saturday
09.00 Gregorian Tertia in the Piarist Church
09:15 Open day in the Piarist Church
11.00 Prelatical Gregorian mass in the Cathedral,
celebrated by Dr. Nándor Takács, retired bishop
12.00 Schola concert in the Cathedral
18.00 Gregorian Vesperas in the Franciscan Church
19.30 Schola concert in the Cathedral - Gregorian in the polyphony from the X. century to today
10 July Sunday
08.30 Gregorian Laudes in the Piarist Church
10.00 Prelatical Gregorian Mass and Te Deum in the Cathedral,
celebrated by Dr Miklós Beer, bishop of Vác